Technology plays a crucial part in the development of new multifamily amenities. When Luxer One was founded, we made it our mission to always pursue new and creative ways to solve the package problem for our customers. This year, we're pleased to be the first vendor in multifamily to offer The Smart Package Room®, a new addition to our suite of locker & package room offerings.
This addition is thanks to our recent partnership with Position Imaging, whose specialty is creating highly accurate 3D tracking technology. Our CEO, Arik Levy explains, "as a technology company, we are always searching for innovative partners that think like we do."
The reason we're so focused on innovation is because we're committed to providing the absolute best options for our customers. Now, multifamily communities can consider an even wider variety of package delivery solutions through Luxer One. Here's more on our full suite of solutions for properties big and small:
1. The Bread & Butter: Luxer Lockers
With our flagship Luxer Lockers, both package delivery and pick-up are automated; carriers deliver directly to the lockers, and residents can pick up their packages at any time. The usual time-sink of package management bypasses the property and its staff entirely. If you're like most property managers, this means you'll get a huge chunk of time back and boost your productivity.

High Tech Security & Privacy
In general, package lockers are highly secure and private. When a carrier makes a delivery, the system sends the resident a unique, one-time-use access code via text or email. The resident can pick up their package at their convenience, knowing it's been kept safe, secure, and private. Luxer One also provides video surveillance of the complete locker area, which records and archives every time anyone accesses the lockers, along with the specific codes used. Between video security and these detailed logs, we always know who accessed the lockers and when.
100% Package Acceptance
Luxer Lockers are equipped to handle 100% of the packages that come through your door. The oversized locker was designed to accept the largest size parcel that FedEx, UPS, and other carriers are willing to ship. If it ships, it fits. And if all the private lockers are full when a carrier attempts to make a delivery, the Luxer oversized locker can handle the overflow of additional packages. We don't believe in undeliverable packages!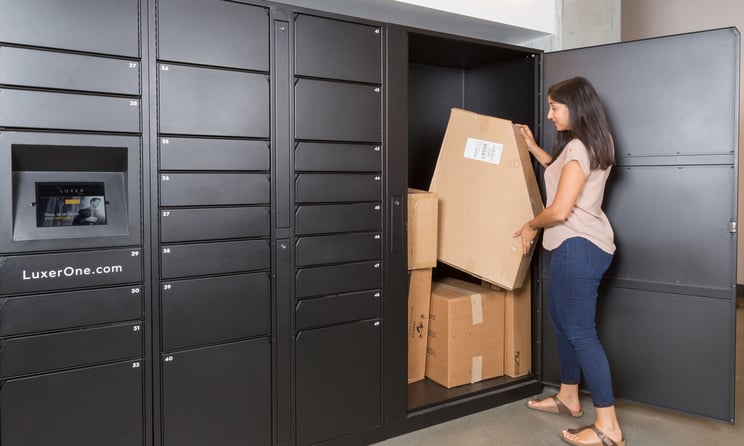 Quality Steel for Maximum Durability
We make our lockers with cold-rolled steel (CRS) that's specially manufactured to be stronger and tougher than basic or hot-rolled steel. We vary the gauge of material to create lockers that are efficient, sturdy and full of integrity. CRS alone has a nice surface finish and grade, and we build on that by coating the steel in a corrosion-resistant layer that keeps the surface free of scuffing. This gives our lockers their glossy, polished appearance (and keeps them long-lasting!). Our actual locks are made with zinc-plated steel, designed to be tamper-proof and theft-proof. They're durable enough to last well beyond ten years of daily use, so they'll be with you for the long run.
2. The Simple Solution: Luxer Room
Locker systems are highly customizable, but for some properties, they aren't the right fit. We talked to many property managers who were interested in the automation and security that Luxer Lockers provide, but needed a more flexible solution. So we created Luxer Room, a solution that was more adaptable, and still preserved the most important benefits of an automated system. Like with Luxer Lockers, the carrier enters their unique code to make deliveries, and residents receive a single-use code to unlock the door and pick up their packages from the room. As always, our video surveillance and activity logs keep a watchful eye against theft.
Like Luxer Lockers, Luxer Room is automated and designed to accept 100% of packages. It also comes with trade-off benefits that can be an excellent fit for properties.

Space-friendly
If you currently have a package room or closet — or any other room that you'd like to turn into one — Luxer One technology easily integrates with your existing room. Almost any size room can be used—if it has a door, it's compatible. This makes Luxer Room a very popular option for properties that don't have the space to devote to lockers.
Turnkey
Luxer Room is incredibly easy and fast to set up. A general contractor can get you up and running in no time. If you're handy and feel comfortable with a DIY project, you can even set the system up yourself.
Highly Affordable
Locker materials make up a significant portion of Luxer Locker costs. Because the Luxer Room involves less hardware, it's a very affordable investment. This has made it an incredibly popular package management choice for properties all over the country.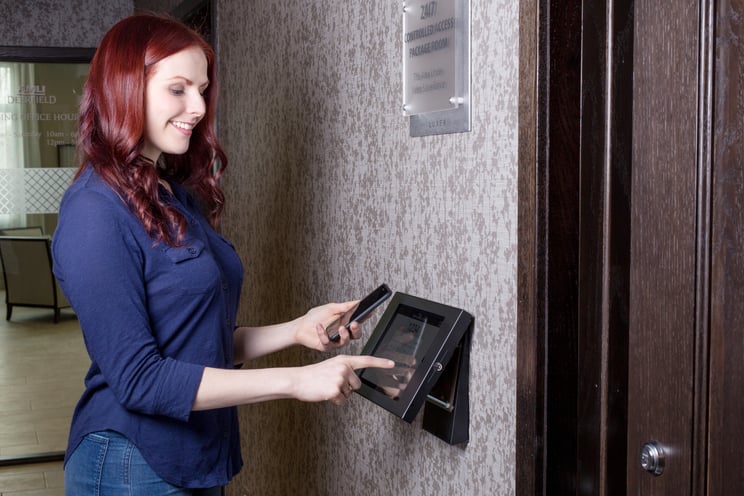 3. The Latest: Smart Package Room

®
We're obsessed with solving the package problem. This year, we'll be working with Position Imaging to resell their Smart Package Room® solution. It'll be available for apartments for the first time this year, and we're looking forward to seeing it "wow" residents nationwide.
Cool Technology
The Smart Package Room® is similar in function to the Luxer Room, but it uses Position Imaging's tracking technology to pinpoint exactly where the carrier has placed a package inside the room. When the resident arrives, the room literally guides them to their package. Laser light guidance points to the correct package, and lets out an alert if a resident picks up the wrong package. The room recognizes where the resident is in the room, and can verbally as well as visually guide them to their package.

Stand Out (with Lasers)
These days, a high-quality package solution is one of the most sought after amenities, ranking just after on-site gyms in desirability. The Smart Package Room® creates a customized and fun experience for your residents every time they pick up a package. Touting that your system uses lasers is a Jetsons-level way to stand out from the crowd.
Increased Security & Convenience
With conventional package delivery, packages end up sitting in front of doors, taking up space in the leasing office, or laying around in an unsecured room. Both Luxer Room and the Smart Package Room® add a layer of convenience and security where there otherwise would be none. These are some of the most important factors when considering any new amenity, and we know your residents will appreciate their community taking a smart approach to package acceptance.
---
Want to learn more about any of these package management solutions? Connect with a member of our team today!