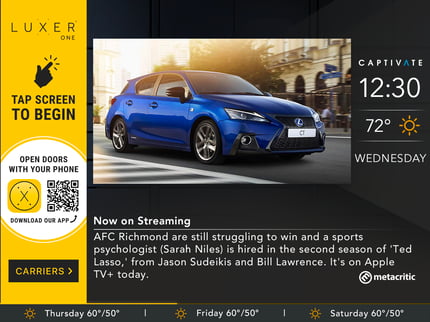 We are thrilled to share some exciting news with you all! Luxer One is proud to announce a dynamic partnership with Captivate Digital Media, a leading provider of professionally-curated news and entertainment content on digital screens in luxury commercial and multifamily buildings for over 25 years.
At Luxer One, our mission has always been to enhance the package delivery and pickup experience for residents and carriers in multifamily properties. With this exciting collaboration, we are taking our commitment to the next level by bringing the Captivate experience directly to our Luxer One package management screens, without any additional charges to the properties.
For those unfamiliar with Captivate, they provide residents with engaging content through digital screens within common areas and elevators. This means that while residents wait for elevators or pass through communal spaces, they can now enjoy informative and entertaining content, enriching their daily routines.
In a recent 3rd-party survey, a staggering 92% of residents surveyed found Captivate's content to be both informative and helpful. This high level of appreciation makes us even more enthusiastic about this partnership and reinforces our belief that it will truly add value to the lives of the residents we serve.
Now, you might be wondering how this integration will affect residents and carriers. Rest assured, the partnership will not disrupt the smooth package delivery and pickup process. Once residents are ready to pick up their packages, they can do so just like before, without any changes to the existing system. Carriers will also be able to deliver packages as seamlessly as ever.
This partnership with Captivate Digital Media represents a significant step forward for Luxer One and the multifamily communities we serve. By offering engaging content to residents, we are committed to constantly improving our services and delivering an unparalleled package management experience.
We can't wait to see the positive impact this collaboration will have on residents, carriers, and the entire Luxer One community.
To learn more, contact our team!