At Luxer One, we're on a mission to relentlessly improve how the world receives goods. How do we do that? We hire the best people possible who will join us as we challenge the status quo and redefine package management across industries. Our employees live our core values every day - they embody pride and ownership in Luxer One, they are solutions driven, they respond rapidly, and they always do the right thing.
In this new series, we will highlight the incredible people behind Luxer One, starting with Melina Aguilar. Melina is a recent winner of a Luxer One core value award. She works on the finance team, supporting customers with billing inquiries and compliance.
Want to work at Luxer One? We want the best people on our team! See a list of our current openings here.
---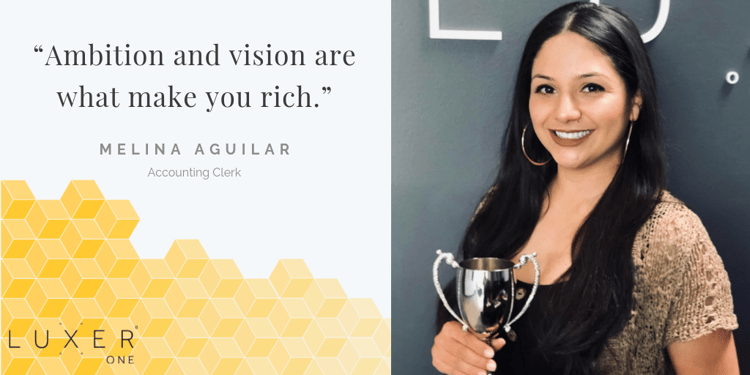 1. When you have 30 minutes of free-time, how do you pass the time?
I love to be outdoors! I enjoy going on a walk or run, bike ride, and any other way to exercise and spend time with family.

2. If you could pick one superpower, what would it be and why?
I'd love to control time. It would be so interesting to go back in time to re-visit memories and re-experience events if I wanted to.

3. What's the best thing about Luxer One?
I love what I do! The company culture, the environment, and the purpose impacts me daily. Arik, our CEO, hosts a lot of employee events that helps get everyone involved with one another. I appreciate his weekly office hours so anyone in the office can come speak with him about their ideas to continually improve how the world receives goods.

4. What's something most people don't know about you?
I was a medical assistant in a podiatry office. It was interesting, but it was my least favorite job. I can say from experience that smart lockers are a lot more interesting than feet!

5. What's the last book you read?
"Become A Better You" by Joel Osteen.

6. What's your secret talent that no one knows about?
Being organized. It's the key to success.

7. If you could choose anyone, who would you pick as your mentor?
Oprah Winfrey. She has been an inspiration to so many people, including myself. I imagine I could learn so much from her in just one lunch together.
8. What's your favorite line from a film?
"Mama always said life was like a box of chocolates. You never know what you're gonna get." - Forrest Gump.
Personal Quote: "Ambition and vision are what make you rich."
---
Want to work at Luxer One? We want the best people on our team! See a list of our current openings here.