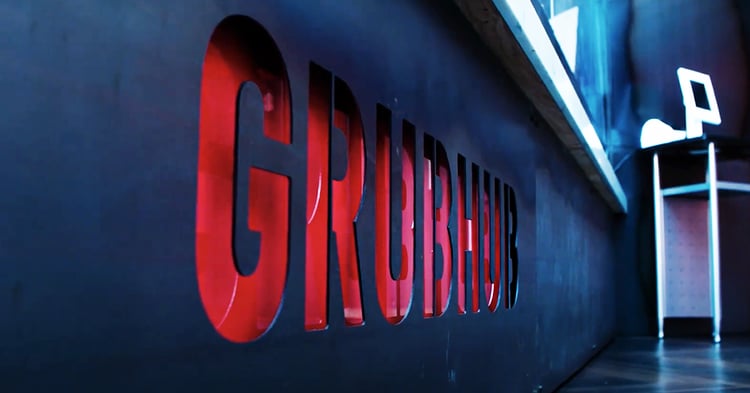 These days, everyone is searching for convenience. This is especially true for major corporations. Being able to provide timesaving services can be a game changer for big businesses, and Luxer One has made it part of our mission to provide this service for our clients. This year alone we are proud to announce we have successfully provided this peace of mind and time saving strategy to some of our largest clients.
We have implemented our smart lockers in schools, offices, and other workplaces around the country. A relationship we are most proud of this year is with the largely growing and well known company, GrubHub. Our team was able to help them transform their package problem from an insecure and disorganized process into a safe and streamlined Luxer Mailroom to keep their business moving forward.
Helping Grubhub
GrubHub is a widely known for their popular food delivery app, which connects millions of hungry users directly with the restaurants they love bringing their favorite meals right to their door. Delivering food to 19 million users across 50 states is no small feat. It takes a team of approximately 2300 highly-talented employees to ensure food arrives safely at consumers doors.
In 2019, GrubHub realized their current package delivery process for employees at their main office in Chicago, wasn't cutting it. With an office of more than 1,000 people, it was incredibly easy for their package area to get overcrowded and disorganized. Some employees expressed concerns about their packages getting lost or tampered with. So, GrubHub came to us and we created their custom Luxer Mailroom.

We were able to implement a complete smart locker system that completely transformed their package problem into a package process. Now, the entire space is streamlined and matches the sleek and modern design that the company strives to uphold. More importantly, the space is functional and user friendly for their team.
Workers receive email notifications as soon as their package has been put into a smart locker. Then, all they have to do is bring their phone to the mailroom, scan the QR code, and their locker opens! No one else can access it, so their package is safe and secure until the intended receiver is able to get there. Best of all, we were able to install an entire mailroom of smart lockers in just a matter of days, ensuring that GrubHub's mail delivery was never interrupted.
About Luxer One
Luxer One has created an innovative smart locker system that allows packages to be delivered and retrieved in a secure, quick, and contactless fashion. Major couriers such as Amazon, FedEx, and UPS can deliver packages to homes, schools, or businesses with ease. The delivery person simply assigns their package to a locker and places it inside, then the recipient gets an email notification that their item has been delivered. The recipient also gets a QR code that they must scan in order for the locker to open. The result is a streamlined process that keeps items safe and keeps everyone informed about a package's delivery status.
How Can We Help You?
We are so proud to have been able to bring our convenient smart lockers to GrubHub, giving them peace of mind and taking one less stress off of their team. We'd love to do the same for your business! Contact Luxer One today to see how our smart lockers can make a difference in your workplace.