School is in session, and university mailrooms around the country are starting to panic. Freshmen are receiving their first care packages, and students are ordering supplies and books from Amazon more than ever before. Students are lined up out the door of the mailroom - and in some cases, they may need to wait 15-20 minutes just to pick up their package.
When you're a busy college student, you don't have 15-20 minutes to wait! For mailroom employees, they're feeling overworked and tired of dodging complaints about the wait times.
One university in particular, a top public school in California, experienced these issues and wanted a solution. Using Luxer One, they solved their most pressing problems and future-proofed themselves from the inevitable increase in package volume in the coming years. In this case study, we interviewed this university about the process to implement Luxer One and the impact it has had on their student experience.
Don't have time to read this now? Download a one-page PDF version of this case study.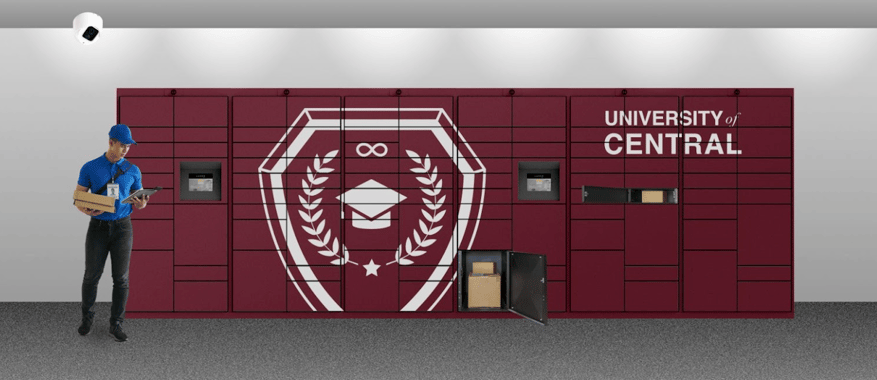 Problem
For students at this public university, picking up packages used to mean waiting 15-20 minutes in a line that went out the door. Bottlenecks were a daily occurrence as students rushed to pick up packages in between classes. The college's three student-run mail centers used a shelving system that was well-organized, but time-consuming and inefficient to manage. While the mailroom staff was busy with pickups at the front counter, new deliveries would pile up in the back.
Solution
When this California school discovered package lockers as a solution, it was a lightbulb moment. Their package volume outnumbered letter mail two-to-one, and their modern problem needed a modern solution.
After a thorough RFP process, the university selected Luxer One as their locker partner. The first of their mail centers now has a Luxer Locker system that accommodates 200-250 packages per day. The system has multiple access points, including handheld touchscreens that the staff uses to make deliveries. Up to three students can simultaneously pick up from the lockers, and at the very same time, the mailroom staff can keep delivering.
The experience is streamlined and efficient—no more bottlenecks! It takes students just 45 seconds to walk in and out of the mail center with their package in hand.
This university approached their package problem with a positive, can-do attitude, and it's paid off. Students love the lockers. With the space that the lockers have freed up, the college plans to rent out PO boxes.
As their team puts it, "Don't be afraid of change. There's a million ways to make something work, so get creative and create win-win situations. It's worth it."

---
Luxer One provides smart locker solutions for universities. Want to learn how we can help you manage your package problems? Reach out to a member of our team here.