We're excited to share the news that Luxer One has been acquired by ASSA ABLOY, the world's preeminent lock and access control company.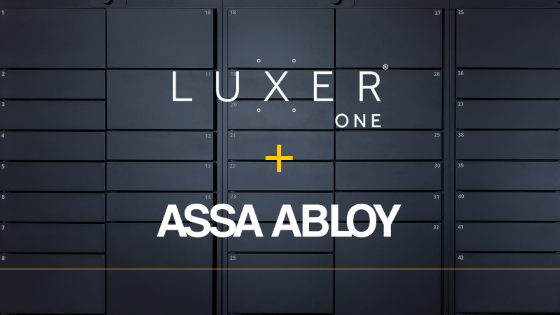 Ever since our founding, we've operated under the mission to relentlessly improve how the world receives goods. Today, we join the ASSA ABLOY family of brands in the US to execute on this mission even better than before. Our team of over 130 employees will continue to operate as usual from our Sacramento headquarters, now with added resources and expertise to help us achieve our goals and go above & beyond for our customers. We thank you – our customers, partners, suppliers, and friends of the company – for your unrelenting support, and look forward to many more opportunities ahead.
Read the full press release below, published on December 19, 2018.
---
SACRAMENTO, CALIFORNIA --(PRNewswire)-- Luxer One, the leading package locker technology company in the US, has been acquired by ASSA ABLOY, the global leader in locks and controlled access systems.
"We are very pleased to welcome Luxer One into the ASSA ABLOY Group. Luxer One is the market leader in last mile delivery in the US," says Lucas Boselli, Executive Vice President of ASSA ABLOY and Head of the Americas Division. "Luxer One provides us with synergistic opportunities in significant vertical markets."
Luxer One debuted its flagship Luxer Lockers product in 2013, originally intended for automating package delivery at apartment buildings. In a 2018 report published by the National Multifamily Housing Council (NMHC) and Kingsley Research, Luxer One was reported as the multifamily industry's market leader in package lockers, with 27% market share. Today, the company offers a wide range of pickup and delivery solutions for several industry verticals, including residential, retail, office, and university.
"We've come a long way, but we still have so much opportunity ahead of us," explains Arik Levy, founder and CEO of Luxer One. "We've been in search of the right partner to join us in our mission to improve how the world receives goods. ASSA ABLOY has proven to be that perfect fit, with their expansive experience and dedication to product excellence."
Luxer One will join the ASSA ABLOY family of brands, including August, Yale, HID, Medeco, Emtek, Adams Rite, among others.
Luxer One will continue to operate from its Sacramento, California headquarters. The company has 130 employees and will continue hiring in 2019.
"This new relationship with ASSA ABLOY will unlock the potential our team has always been capable of. I'm incredibly proud of what we've accomplished so far, and look forward to the world of possibilities ahead of us," concludes Levy.
For the purposes of this acquisition, PricewaterhouseCoopers Corporate Finance LLC acted as exclusive financial advisor and Goodwin Procter, LLP acted as legal advisor to Luxer One.
About Luxer One
Luxer One is a technology company specializing in the secure delivery and pick up of goods. The company's smart package lockers and controlled access technology is used across industries, including residential, retail, office, and university. The Luxer One team started innovating 24/7 automated locker solutions in San Francisco in 2005, with the Luxer One brand launching in 2013. The company has performed over 17 million locker deliveries globally through its advanced technology platform.
About ASSA ABLOY
ASSA ABLOY is the global leader in door opening solutions, dedicated to satisfying end user needs for security, safety and convenience. Since its formation in 1994, ASSA ABLOY has grown from a regional company into an international group with about 47,500 employees, operations in more than 70 countries and sales of SEK 76 billion. In the fast-growing electromechanical security segment, the Group has a leading position in areas such as access control, identification technology, entrance automation and hotel security.
Media Contact
Luxer One
Melody Akhtari, (415) 390-0123 x810
melody@luxerone.com