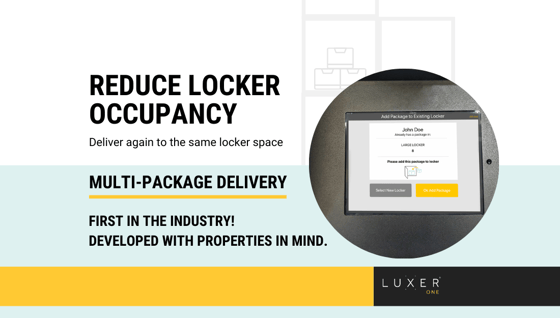 The world of e-commerce has transformed the way we shop, leading to an influx of package deliveries for residents in shared community settings. To tackle the challenges of managing multiple packages for the same resident, Luxer One has emerged as a trailblazer in the industry. With an advanced package management system and a focus on innovation, Luxer One sets itself apart in elevating the multi-package delivery experience for both residents and mail carriers. Let's explore how Luxer One achieves this while keeping properties in mind!

Multi-package Delivery Redefined
Luxer One's groundbreaking system allows mail carriers to deliver additional packages to a locker that is already occupied. This unique feature reduces the locker occupancy rate, freeing up valuable space for more deliveries to different recipients. By optimizing locker space, Luxer One maximizes package storage capacity and minimizes the chances of package overflow, ensuring a smooth and efficient delivery process.
Seamless Integration and Simplified Pickup
Through its cutting-edge technology and strategic partnerships with leading residential software, Luxer One facilitates seamless integration with multiple delivery services. This enables mail carriers to easily access Luxer One's lockers, making the delivery process more efficient. Furthermore, residents benefit from an easier pickup experience as they only need to use a single code to retrieve all their packages from the same locker. This convenience saves time and reduces the hassle of managing multiple access codes.
Pioneering the Industry
Luxer One takes pride in being the first in the industry to introduce such an innovative and comprehensive multi-package delivery system. By continuously pushing the boundaries of what is possible, Luxer One has set a new standard for efficient and customer-centric package management solutions.
Developed with Properties in Mind
Understanding the unique needs of property managers and residents in shared community settings,
Luxer One has meticulously designed its system with properties in mind. The company's approach ensures seamless integration with various property management systems, making it easy for property managers to adopt Luxer One's services without disrupting their existing operations. Additionally, Luxer One's eco-friendly practices align with the sustainability goals of many modern properties, demonstrating the company's commitment to creating solutions that benefit both residents and the environment.
Continuing to Innovate
Luxer One's forward-thinking approach to multi-package delivery has revolutionized the way residents and mail carriers interact with package management. With the ability to deliver additional packages to occupied lockers, reduce the locker occupancy rate, simplify pickup experiences, and lead the industry in innovation, Luxer One has set a new benchmark for excellence. Developed with properties in mind, Luxer One's solution addresses the unique challenges faced by shared community settings, making it an ideal choice for property managers looking to enhance their package delivery services. By choosing Luxer One, properties can offer their residents an unparalleled package management experience that streamlines deliveries, minimizes disruptions, and brings greater convenience to all parties involved.
For more information, contact our team!