Package delivery volume skyrockets during the holiday season, and parcel carriers have their work cut out for them. Companies like USPS, FedEx, UPS, and Amazon rise to the challenge by hiring seasonal drivers to keep up with the massive amount of deliveries.
Here are 4 tips to help make the delivery process as smooth as possible during this hectic, high-volume time of year.
1. Keep Extra Carrier Instruction Sheets Handy
Make it easy for new drivers to learn the ropes! Prepare a stack of Carrier Instruction Sheets with the carrier name and access codes already filled out—you can provide these to seasonal drivers to help them quickly learn how to deliver to the package lockers for the first time.
2.Increase Signage to Guide Carriers
Place signs around your property that direct carriers to your package delivery area. Get creative! You can match your signage to your community's branding. Or, ask your Luxer One representative for generic Luxer-branded signs.



3. Manage Overflow
Most package management systems are sized for normal delivery volume, not the 2-week peak period right before Christmas, when package volume can nearly double. If your system fills to capacity, you may need to help out during this short period, to make it simple for carriers to keep delivering.
Option 1: Oversized Locker
If you have an Oversized locker, or have paired your Luxer Lockers with a Luxer Room, have overflow packages delivered there for worry-free overflow.
Option 2: Accept Extra Deliveries at Leasing Office
You can temporarily stray from your policy and accept the overflow in your leasing office. At the end of the day when lockers become available again, you can manually deliver them before leaving.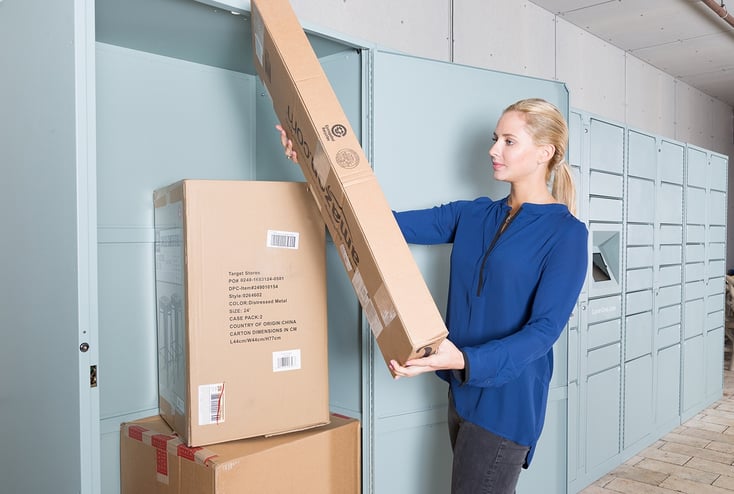 4. Here to Help
As always, we're here to help you have a smooth experience! If you need additional assistance with the carriers, please ask for our Carrier Relations team at support@luxerone.com or 415-390-0123.
---
Want a quick and easy way to reference these tips?
Download our one-page holiday infographic! Same best practices for helping carriers, convenient new infographic format. You can print it out and keep it handy at your desk during the hectic holiday season.