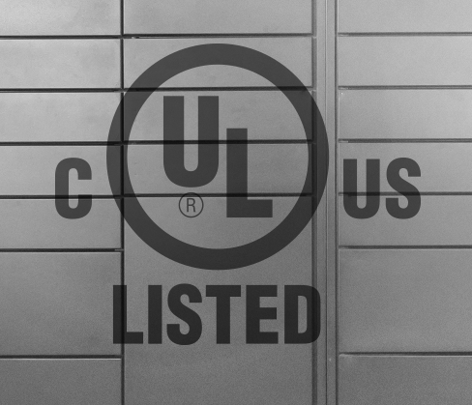 Luxer One, the technology leader in smart locker solutions, announced today that they have been awarded a UL global safety certification for their smart locker systems.
This nationally recognized mark of quality is the highest level of safety certification a product can receive and is required for certain new construction in multifamily properties. It establishes products as compliant with all federal safety
"Luxer One's UL Certification establishes our company as the smart locker standard for public education and government settings, where building codes require that all installed products also fall in top compliance."
- Ethan Dempsey, Director of Engineering at Luxer One
standards as determined by the Occupational Safety and Health Administration (OSHA), including local and federal building codes.
These values align directly with Luxer One's longstanding commitment to provide the best in smart locker solutions for our clients. Whether it's earning the top rank in the Kingsley's National Package Delivery Report for multifamily residential properties or maintaining a 4.8 out of 5 stars from Google users for the industry's first-ever iOS software for smart lockers – driving innovation while maintaining a premier standard of quality continues to set Luxer One apart.
As a result, over 120 million packages in the United States have been delivered to Luxer Lockers. An impressive figure, which will continue to grow as the adaptability of smart locker systems become more apparent and accessible.
For example, universities and colleges such as California State University at Long Beach and the City of Rochester School District in New York State have implemented Luxer One smart locker systems to provide contactless distribution of student materials and learning tools like laptops and Chromebooks. This level of convenience and quality is one of the reasons Luxer One has seen their sales in the university and government space triple during the onset of the COVID-19 pandemic.
With more organizations planning their return to regular working and studying conditions, it's vital for residential, colleges, government facilities, and other organizations to know the companies they partner with fully comply with the global safety and quality standards. Being awarded the industry's first UL global safety certification, Luxer One has once again proved they are the clear choice for all your smart locker needs.
For more information on how UL Certified Smart Locker systems can help your organization thrive, feel free to contact our team today!