On June 13-16, 2018, we joined over 9,000 attendees at the biggest multifamily event of the year: The National Apartment Association's Apartmentalize. This year's event took place in sunny San Diego, where we spent four jam-packed days attending sessions, holding one-on-one meetings, hearing incredible speakers, and meeting hundreds of fellow attendees at our two Exhibit Hall booths.
Read on for a recap of the new solutions we showcased at our booths.
Perishable's Paradise
This year's Apartmentalize marked the very first appearance of our Luxer Fridge. The Luxer Fridge is a full size True Refrigeration® commercial refrigerator that's been fitted with Luxer One locks. We've partnered with True® to offer our customers a best-in-class refrigerator product, built in the USA (just like our lockers!). The system is completely integrated with our signature Luxer Lockers to securely store perishable deliveries for apartment residents.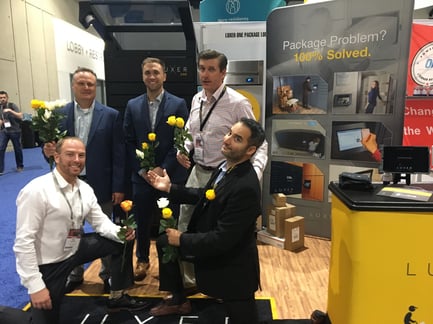 If you visited our booth, you may have been treated to a fresh flower pulled straight from the Luxer Fridge. Our team loved handing them out!
The Luxer Fridge fits any shape and size of perishable delivery. The shelves are adjustable and removable. At the show, we demonstrated how you can fit Blue Apron boxes, a full-sized flower arrangement, and more inside a single Luxer Fridge at the same time.
Next Generation Outdoor Lockers
We also displayed a full size Luxer One Main Unit—the bread and butter of our locker system. The tower itself was outfitted with an outdoor roof and outdoor surveillance camera, which originally debuted at NAA 2017 in Atlanta.
This year's model has the same sleek aesthetic we introduced in 2017, but with an even thicker gauge of metal. Though we've kept the same look, our team has spent the past year improving and fine-tuning all our locker solutions. One of the most important ways we serve our clients is through continuously innovating not only new products like the Luxer Fridge, but iterating upon and polishing our existing solutions.
Goodies & Giveaways
NAA Apartmentalize is a time of learning, building relationships... and awesome prizes! It's always fun to see excited attendees with bags full of fun promotional giveaways.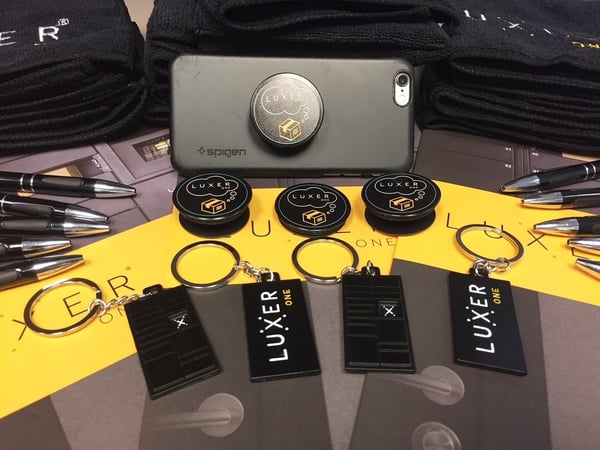 Visitors to our booths were able to snag the hottest promotional giveaway of 2018: the pop socket. We spotted a ton of fellow suppliers giving them away on the show floor, and you could hardly find a phone at NAA without one. We also treated our partners and fans to mini Luxer Locker keychains. Just a small token of appreciation for being a friend of Luxer One! If you couldn't stop by our booth, drop us a line and we'll be happy to send you a swag bag.
And it wouldn't be a trade show without the opportunity to win. We were pleased to raffle off prizes to four lucky winners who went home with a Google Home Mini and an add-on touchscreen for any Luxer One system. A little something for home, and a little something for their community.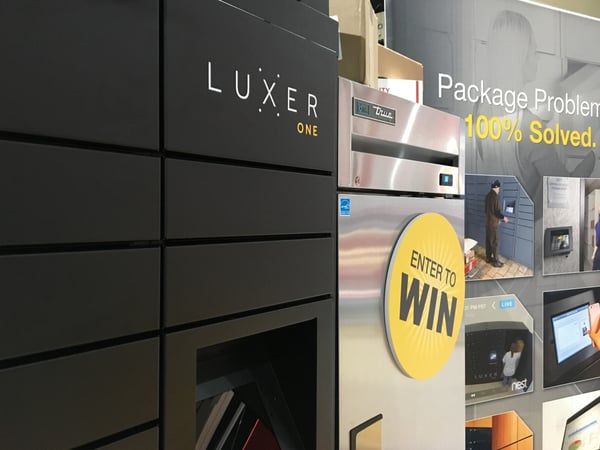 Wrapping Up a Great Show
NAA Apartmentalize is an incredibly rich experience that we look forward to every year. It's such a joy to be part of the energy, excitement, and passion in this amazing industry. We already can't wait to do it again next year in Denver for Apartmentalize 2019. We hope to see you there!
---
If you didn't have a chance to meet us at the show, we'd still love to connect with you! Reach out to a team member here, and look out for us at NMHC OpTech in Orlando later this year.