There's something uniquely frustrating about having a package stolen right off your doorstep, and it's an alarmingly common problem. With year-over-year package delivery on the rise (an estimated 20% increase every year), packages are becoming an even more enticing target for "porch pirates".

CNBC explores how shoppers and residents are seeking ways to protect their packages from these porch pirates, and many are turning to package lockers. Check out their take on the issue below.
This post –abridged below – was originally published December 18th, 2017 on CNBC. You can check out the original here.
---
Luxer One reported an 83 percent increase in package delivery volume to its lockers during the week after Black Friday and Cyber Monday, compared with the week prior.

Package delivery volume to its locker units jumped 44 percent in November 2017 compared with one year prior.

Amazon, FedEx and UPS are offering similar solutions to prevent stolen packages and other delivery mishaps.
Lockers aren't just for school-aged kids to stow their books anymore.
Increasingly across the U.S. companies such as Sacramento, California-based Luxer One are setting up locker systems in luxury apartment complexes, office buildings and retail operations, where packages can safely be kept (typically for a small fee), hopefully preventing so-called porch pirates or other delivery mishaps.
Nearly 1 in 5 U.S. homeowners has been a victim of package theft in the last year, according to a recent survey by Ring, a home security firm. And in 2016, the average homeowner had nine packages delivered from Black Friday to New Year's Day, with that number set to grow this year as more consumers ring up purchases online.
Most delivery services are expecting to handle a record number of parcels this year, and Adobe Analytics is calling for the first $100 billion shopping season online.
In turn, package-holding lockers become especially important around the holiday season, when shoppers stress over tracking and receiving last-minute gifts that they can't afford to lose or reroute elsewhere.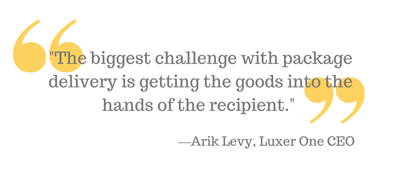 Already this year, Luxer One has reported an 83 percent increase in package delivery volume to its lockers during the week after Black Friday and Cyber Monday, compared with the week prior. The company currently works with more than 1,200 apartment communities across the U.S.
These types of lockers act as self-service kiosks, where customers are notified when an order arrives for them. Some personal information is required to retrieve items in order to prevent theft. In Amazon's case, returns can also sometimes be processed via its lockers.
"The biggest challenge with package delivery is getting the goods into the hands of the recipient," Luxer One CEO Arik Levy said.
Package delivery volume to Luxer One's locker units jumped 44 percent in November of this year compared with one year ago. The company added its "oversized locker," which is designed to hold any overflow of boxes, has already received 112 percent more deliveries since Thanksgiving weekend.
Shoppers also appear to be picking up their packages quicker, the company pointed out. Since Thanksgiving weekend, consumers' "speed of pickup" has increased 43 percent for Luxer One's units. Importantly, that opens up capacity for other boxes, with a slowdown not expected until after the new year.
Aside from Luxer One's lockers, there are a host of other options available this year for consumers who are worried about getting an item delivered directly to their doorstep.
Amazon already has many of its lockers planted at shopping centers and malls, inside Whole Foods and other convenience stores including 7-Eleven and Rite Aid, and at some fitness centers.
In a separate push, FedEx this year is encouraging its customers to have packages delivered to Walgreens Boots Alliance or other "hold" locations, including Kroger and Albertsons, as part of its delivery strategy. This would save FedEx time and money, where its drivers don't have to go door to door, delivering package by package.
The same can be said for UPS, which launched a similar initiative in 2014, creating an Access Point network of thousands of pickup locations inside grocery stores, dry cleaners and other retailers.

To be sure, for many shoppers, venturing to a drug store or grocery store can become too burdensome and contradicts the ease that comes with ordering online to begin with.
Luxer One said it's only beginning to tap into a new model in U.S. residential communities and has plans to triple its unit count in 2018.
"In 2018 you will start to see this everywhere," Levy explained to CNBC. "We'll start to expand into smaller buildings ... lockers can go anywhere."
---
Think automated lockers might be a good way to protect your packages? Check out 6 Questions to Ask Yourself Before Getting Package Lockers to learn how to set your property and your package management system up for success.