What happens when a mailroom gets "smart"? That's the question that the team at Tribeca Apartments in St. Louis asked themselves in designing a completely reimagined mailroom. The smart technology apartment community comes complete with a Luxer One package locker system, plus TV screens showing local events & weather, and even a marketplace with snacks and drinks for purchase. Read further for more on this community's creative spin on modern-day amenities.
This article was published as a press release on May 1, 2018. You can check out the full release here.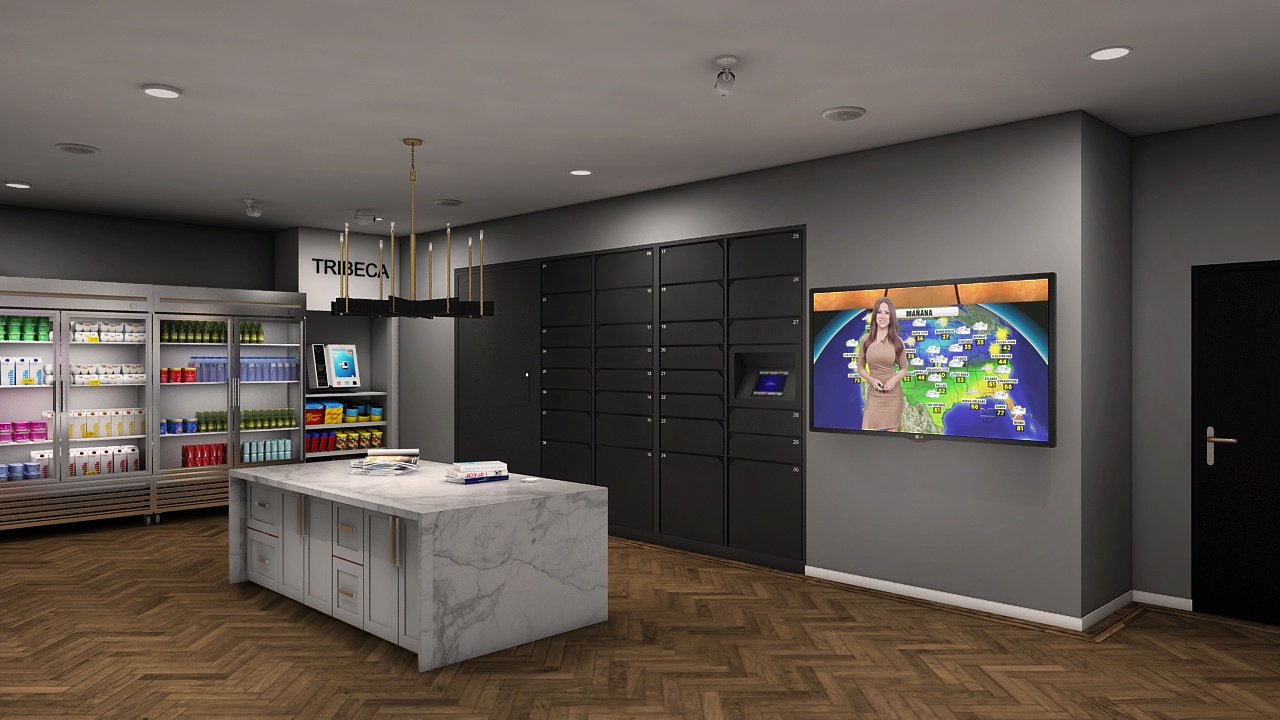 30th April 2018
FOR IMMEDIATE RELEASE
Tribeca Offers Luxer One Package Lockers As Part Of "Mail & Marketplace" Amenity
ST.LOUIS, MO (Apr. 30th, 2018) Tribeca (tribeca-stl.com) is a new smart technology luxury apartment complex in St. Louis, located at 5510 Pershing near Forest Park in the Central West End. The new development is blending luxury with practicality in its state-of-the-art "Mail & Marketplace" for residents. The modernized mailroom will feature a Luxer One smart package locker system that allows residents to pick up their packages securely and conveniently 24 hours a day, 7 days a week. The package lockers are also located in the same area as residents' USPS mailboxes for one-stop convenience.
"We wanted to offer common space amenities that truly provide day-to-day value to our residents, without compromising on our dedication to smart design and excellent technology," says Kyle Hennessey, VP of Sales at Tribeca. "With the electronic Luxer One lockers, our residents don't have to rush to the leasing office during business hours to get their packages. They can retrieve their deliveries whenever they want, straight from these lockers," he continues. "And in our next-gen mailroom, they can grab a sandwich from the Marketplace and watch TV while unwrapping their mail. Being right near Washington University, St. Louis University & Barnes Jewish Hospital, the millennial tenant base demands these modern day conveniences."
The Luxer One system works by allowing delivery carriers – such as USPS, FedEx, UPS, Amazon, etc. – to deliver packages directly into the smart package locker system. Each delivery triggers a mobile notification for the specific resident or package recipient, including a one-time-use access code for pick-up. Whenever they want, residents can go to the package locker system and input their code on the locker touchscreen, which opens the compartment containing their package. It takes only a few seconds to retrieve or deliver a package.
Tribeca's Luxer One system also features an oversized compartment that accepts the largest size box that carriers will deliver. "The goal is to accept 100% of the resident packages that come through the door," says Melody Akhtari, Director of Marketing & Communications at Luxer One. "With the oversized locker, residents can enjoy peace of mind for all of their packages – big or small." The locker system includes a video surveillance system for an additional layer of security.
As mentioned above, the "Mail & Marketplace" space will also feature a marketplace with fresh food and drink for purchase. Residents can pick up prepared meals, snacks, and other convenience items straight from the mailroom. The room also features a Fusion Media System audio/visual display showing weather, community activities, local events, and more.
"Tribeca is truly one of the 'smartest' apartment communities we have come across," concludes Akhtari. "We're excited to bring our package acceptance technology to this community, where convenience and excellent design come together so seamlessly."
---
Want to get smart about your mailroom? Start by exploring Luxer One's unique suite of package management products, from automated package rooms to our flagship electronic lockers.