It's that time of year again. Pamphlets are rustling, microphones are being tested. The NMHC OpTech Conference and Expo is this Monday through Wednesday, November 14-16, and we're gearing up for a great show!
Attendees are due to fill the Hilton Anatole in Dallas, Texas, for three days jam-packed with over thirty panels and over one hundred vendors dedicated to the multifamily industry.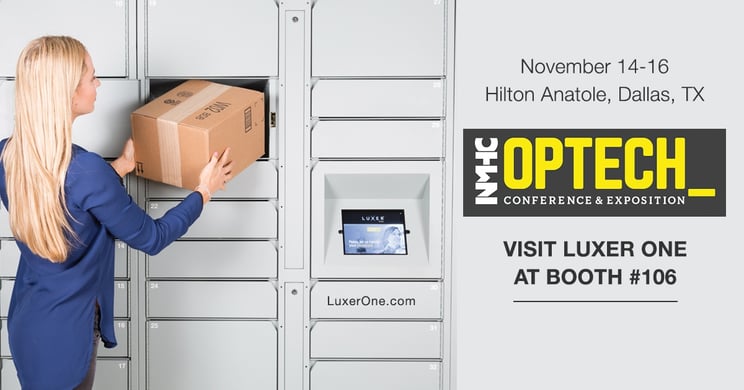 OpTech is a huge industry event, but what exactly is in it for you, besides pockets full of promotional swag? Here are the top four reasons that OpTech is a valuable experience for anyone involved in a multifamily community.
1. Panels that Deepen Your Multifamily Industry Knowledge
For the devoted property manager, education never stops. The OpTech panels bring together industry experts from all fields, and attending is an excellent opportunity to fill gaps in your knowledge, keep your eye on upcoming trends, and put the many facets of running a multifamily complex into perspective.
With over thirty different panels on a multitude of topics, OpTech packs a lot of knowledge into its three days. Here's the breakdown:
General Sessions range from an hour to an hour and a half long. They're designed to be cornerstone panels of the conference, and are scheduled so everyone can attend.

Concurrent Sessions are an hour long, and allow you to customize your panel experience by addressing a more focused topic in depth. Three to six sessions are held at the same time, so you'll have to prioritize.

Snap Sessions are fifteen minutes long. They give you fast, bite-sized insight into a focused topic, and unlike the concurrent sessions, don't overlap.
There's a healthy scope of topics covered, so if you're itching to hear about tech, marketing, utilities, management, and dozens of topics in between, chances are high that there's a session for you.
If you want to learn about how new economic trends are shaping multifamily communities, join us at the Concurrent Session, "The New Economy: Changing the Way We Manage and Design Our Communities" on Wednesday, November 16th at 10:00am. Chris Moreno, our VP of National Multifamily Partnerships, will be moderating an expert panel on how the new on-demand and collaborative economy will change – and is already changing – our communities (Hint: Drone landing pads, anyone?).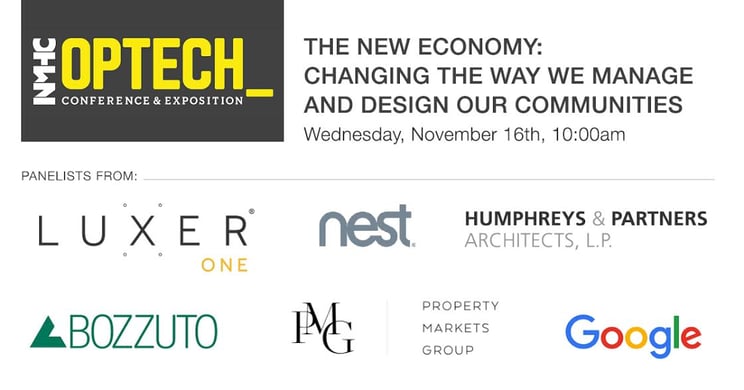 Panelists include: Tommaso Deserti of Nest Labs, Mark Humphreys of Humphreys & Partners Architects, Brian Koles of Property Markets Group, and Stephanie Williams of Bozzuto Management Company.
2. Take Action on the Trade Show Floor
If you want to grow your business, future-proof your community, and solve your property's challenges, the OpTech trade show is the place to find the right partner to make it happen.
Hundreds of the industry's top suppliers gather each day in the OpTech Exhibit Hall, equipped with flyers, demonstrations, and spokespeople eager to help. Exploring the booths will give you a comprehensive understanding of what kind of multifamily solutions are currently available, and with any luck, you'll find one that's the right fit.
Luxer One will be along the Exhibit Hall's northern wall at Booth 106. If you have a package problem – boxes piling up in the office, residents who can't pick up packages after hours – we want to solve it for you. Come say hello, bring us your package horror stories, and check out our solutions in action.
Check out the OpTech Interactive floor plan,
and visit Luxer One at Booth 106!
3. Flip the Script with a Reverse Trade Show
Trade shows typically have a standard structure to them: venders set up booths and wait for attendees to visit. Attendees wander through the exhibit hall, pausing at booths at their leisure.
Effective, but it leaves the chance that a strong partnership can fall through the cracks.
OpTech features an extra event, the Commerce Corner, that's designed to shake up the usual formula and create a new environment in which partnerships and deals can be made.
At Commerce Corner, vendors can pre-schedule meetings with companies. The responsibility to initiate a conversation no longer depends on the companies and attendees touring the exhibit hall; instead, they sit tight while vendors go to them. This year, twenty companies are registered for Commerce Corner.
Commerce Corner doubles as a fundraiser; this year, the funds raised to go support Shelters to Shutters, an organization that works with the real estate industry to help people who are homeless reach economic self-sufficiency. The event sold out – meaning that over $20,000 was raised for Shelters to Shutters.
4. Forge High Level Networking Connections
NMHC Optech is a place where you'll truly be among peers. The Expo draws a national audience; in general, 78% of trade show attendees travel over 400 miles to attend an exhibition, and OpTech is no exception. You have the valuable opportunity make connections with people outside your usual scope of business and region.
Luxer One is based out of California, along with our sister company, Laundry Locker. We work with apartment properties all over the country, so national conferences like OpTech are a great way reconnect with our friends in the multifamily industry from all over the country.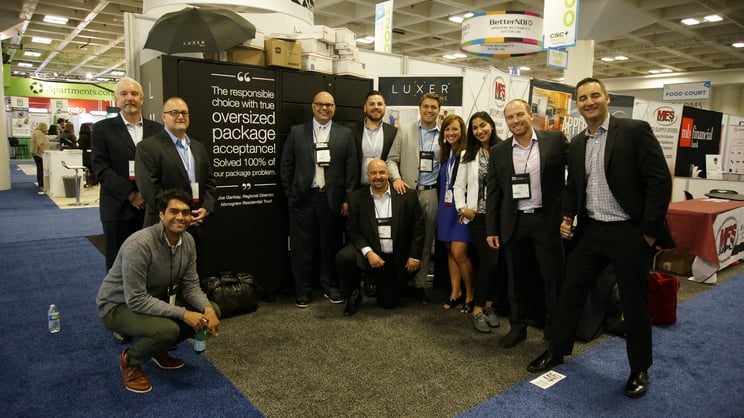 Attending the NMHC OpTech Conference and Expo is a great opportunity to learn more about the multifamily industry, make connections with peers, and open new dialogues with vendors and industry experts alike. OpTech 2016 is November 14-16. If you're there right now, come visit us! We're at Booth 106 with a demo of our locker system, fun freebies, a $100 Amazon.com giveaway, and our friendly team just waiting to solve your package problem. In the meantime, have an awesome OpTech!
---
Want to learn more about package lockers, but not at OpTech this year? Reach out to a Luxer One Team member here!